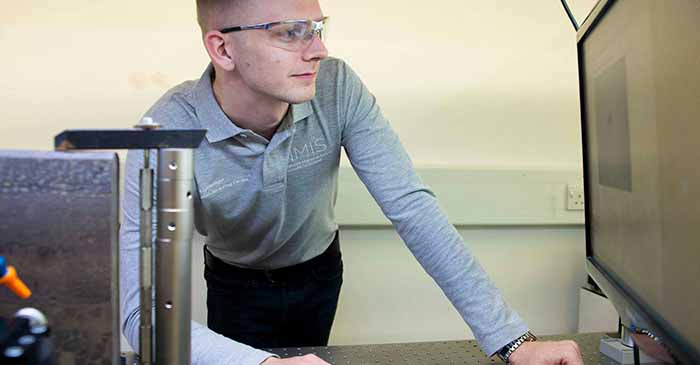 Two of Renfrewshire's most prominent organisations have come together in a new partnership, supporting care experienced young people into employment through opportunities in STEM.
Scottish child and youth charity, Kibble, has joined forces with the National Manufacturing Institute Scotland (NMIS), forming an ongoing partnership to shed light on the opportunities within the manufacturing sector and the accessible routes to employment.
It is hoped that through the collaboration the organisations will encourage young people to consider a career in STEM, with plans to welcome them on regular visits to the University of Strathclyde's Advanced Forming Research Centre (AFRC), one of the specialist technology centres within NMIS, when current COVID-19 restrictions are lifted.
The partnership comes as work at the new NMIS HQ, at the heart of the Advanced Manufacturing Innovation District Scotland in Renfrewshire, gets well underway, with two thirds of the structural steel for the digital factory now in place. At around 1.5 times the size of Hampden football pitch, the full NMIS facility will include a skills academy, a fully digitalised factory of the future and a collaboration hub.
The new NMIS Manufacturing Skills Academy will link with Kibble's very own skills academy, with both organisations working together to create long lasting opportunities for the young people.
Kibble provides a range of services for at risk young people from the age of 5 to 26 who may have experienced trauma or adversity. By providing consistent care, education and therapeutic supports, it open opportunities for young people and establishes important connections and learning experiences that help shape positive futures.
The organisations kicked off the partnership with a special virtual assembly for Kibble young people. Two of the AFRC's engineering technicians who have taken alternative pathways into employment at the centre spoke to the young people about accessing a career in manufacturing, while taking them on a virtual tour of the facility.
Jayne Clark started as an apprentice at the AFRC in 2014 through the University of Strathclyde's modern apprenticeship programme. Without prior knowledge or experience of the manufacturing industry, she has learnt on the job to secure a fulltime role at the centre. After completing her apprenticeship Jayne moved on to successfully complete a degree in computer-aided manufacturing engineering and is now undertaking a post-graduate degree in advanced manufacturing: technology and systems all while still working full time at the centre. Meanwhile Joshua Walker studied mechanical engineering at college and after attending an open day at the AFRC in 2014, decided to apply for an entry role and successfully joined the centre's metrology team where he learnt all about engineering measurement before moving across to the world-renowned residual stress team and now the centre's lead technician in this highly specialised area of materials science.
Jim Gillespie, chief executive of Kibble, said:
Creating real-life tangible opportunities for our young people is an important part of our role as we prepare them for their future. We are excited about the prospects this new partnership with the National Manufacturing Institute Scotland brings, as we collaborate locally and encourage young people to think about their future career paths and the opportunities available to them working within STEM.
Jim Hannigan, head of skills capability at the National Manufacturing Institute Scotland's Manufacturing Skills Academy, said:
Through our Manufacturing Skills Academy, our aim is to transform the manufacturing workforce of today and tomorrow, creating opportunities for people to have flourishing careers.
"It is incredibly important that we support local young people and educate them about the various routes into the sector, supporting them along the way and providing the chance to experience what a career in manufacturing could look like.