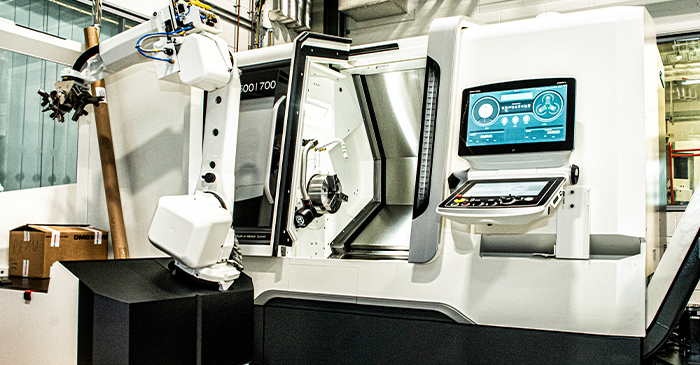 Two global companies have demonstrated their commitment to the University of Strathclyde's Advanced Forming Research Centre (AFRC), part of the National Manufacturing Institute Scotland (NMIS) Group, by agreeing new membership deals.
Both market-leading in their fields, software technology company CGTech, and producer of machining centres DMG Mori, have each immersed themselves in the partnership with the AFRC. Now, having identified more opportunities to support the centre and its network, CGTech have agreed to enhance their memberships to Tier One Partner level and DMG Mori will renew their current Tier One Partner agreement for a further three years.
As Tier One Partners the companies can take advantage of a suite of benefits that ranges from gaining access to the facilities and expertise within the centre, involvement in its core research programme and, access to AFRC's network offering an opportunity for them to expand their business relationships with the wider AFRC community.
In the case of DMG Mori, the company introduced machine tools to the AFRC back in 2017 as a way of augmenting its capability in robotic machine tending by accessing the AFRC machining team's unique set of skills and expertise. This year, it has installed an upgraded machine with the added Robo2Go feature. The company will use the AFRC to both trial the new feature as well as demonstrate its capabilities to industry. With Robo2Go, there is a reduced need for individuals to perform repetitive tasks and instead they can focus on more demanding tasks which will in turn, help bring about an increase in productivity.
It's been thanks to the AFRC's position as a link between academia and industry R&D that CGTech's partnership with the centre has continued to grow. Upgrading membership enables the company to be at the forefront of decisions made on future projects and gives it more insight into future software requirements that the company's customers will benefit from.
Steve Finn, Managing Director, DMG Mori said:
It's been a pleasure and an education working with the AFRC over the last few years. For me it's very encouraging that the staff at the AFRC are acutely aware of the challenges and demands that industry face, being able to demonstrate the strength and spirit towards support for manufacturing. It's also been a fabulous opportunity for DMG MORI to work closer with the manufacturing community in Scotland, providing support at local level. I am delighted that by renewing our membership has allowed DMG MORI and the AFRC to continue in this manner.
Tony Shrewsbury, Managing Director, CGTech said:
We have worked extensively with the team at the AFRC over the years. They are professional and enjoyable to work with, and work hard to ensure that the members are involved in the work that they do. The AFRC is a great showcase for 'best in class' solutions and offers businesses an opportunity to stay in front.

Crawford Cullen, Senior Manufacturing Engineer at NMIS said:
We are delighted that these two companies are continuing their partnership with the AFRC.

CGTech's VERICUT is the industry leading machine simulation, verification and optimisation software, and its capability to verify complex machine processes is invaluable.

Having DMG Mori renew its membership really demonstrates the success we have had in this partnership so far and we are excited to work on a number of new projects utilising their upgraded equipment.
Tier One Partners at the AFRC are technically innovative companies with links to the manufacturing sector that support the centre through in-kind donations such as provision of equipment, software, services or expertise. They work closely with the technical teams collaborating on research projects focused on their areas of interest.