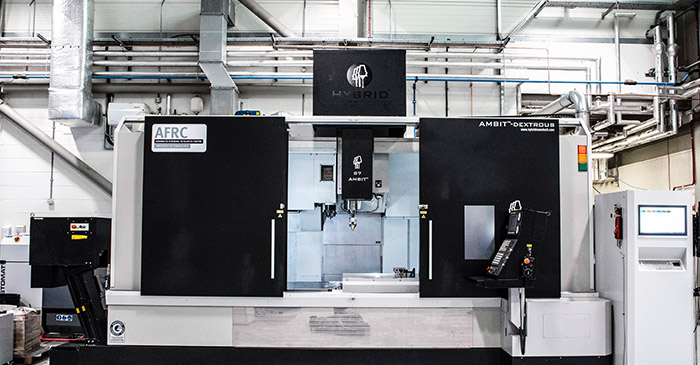 The National Manufacturing Institute Scotland (NMIS) has become the first UK member of a new global trade group to advance sustainability in additive manufacturing.
NMIS is one of 12 leading organisations to join the Additive Manufacturer Green Trade Association (AMGTA), created to promote the environmental benefits of additive manufacturing.
Additive manufacturing (AM) - commonly thought of as 3D printing but also includes powder bed fusion, laser metal deposition, and fused deposition modelling - builds a three-dimensional object by successively adding material layer by layer. It results in less waste and greater efficiencies than conventional manufacturing and, in many cases, can offer greater precision and uniformity.
AMGTA will serve as a key industry resource to educate the public and industry about these positive environmental benefits, to help develop industry best practices, and to promote the adoption of AM as an alternative to traditional manufacturing.
Stephen Fitzpatrick, Additive Manufacturing and Machining and Team Lead at NMIS, said:
Additive is a key focus for us going forward at NMIS and we want to be at the forefront when it comes to sustainability for the manufacturing industry. One of the ways that we are doing this, is by using additive manufacturing as an enabler for new remanufacturing processes.

"We are developing a number of new AM techniques but we don't yet know enough about the sustainability benefits of the many processes. Working as part of AMGTA, we will be able to tap into information from a cross section of industry and that will better allow us as an organisation, and collectively as a global industry, to understand more about the part AM has to play in the net zero agenda.
NMIS is a group of industry-led manufacturing research and development facilities where industry, academia and the public sector work together on ground-breaking manufacturing research to transform productivity levels, make companies more competitive and boost the skills of our current and future workforce. It is operated by the University of Strathclyde and supported by Scottish Government, Scottish Enterprise, Highlands and Islands Enterprise, High Value Manufacturing Catapult, Skills Development Scotland, Scottish Funding Council and Renfrewshire Council.
Sherry Handel, Executive Director of the Additive Manufacturing Green Trade Association, said:
I'm excited to welcome the National Manufacturing Institute Scotland, one of the seven highly-regarded centres that comprise UK's High Value Manufacturing Catapult, as a new member of the Additive Manufacturer Green Trade Association (AMGTA)," said Sherry Handel, Executive Director of the AMGTA. "The NMIS' commitment to support the AMGTA's mission as a key industry resource in advancing sustainability in the AM industry is exemplary. I look forward to working with Stephen Fitzpatrick and the NMIS team as we embark on this exciting and important journey together.