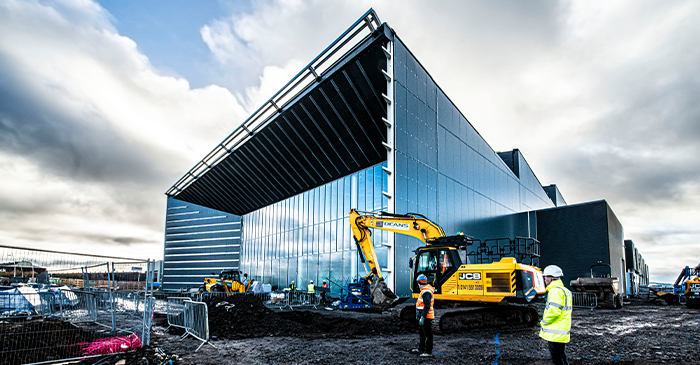 Construction at the National Manufacturing Institute Scotland Group's (NMIS) headquarters in Renfrewshire's Advanced Manufacturing Innovation District Scotland (AMIDS) is nearing completion, with the interior now rapidly taking shape.
Designed as an open space that will inspire knowledge and creativity sharing, the 11,500m2 building will house the NMIS Digital Factory, Manufacturing Skills Academy and publicly accessible collaboration hub.
Construction began in late 2020, with the roof and 1,500 tonnes of structural steel in place by August. Autumn saw installation of the glulam frame, made from wood from sustainable Austrian forests along with glazing of the 384m2 window to the world, which will provide a glimpse into the world of advanced manufacturing for passers-by.
In recent weeks the interior of the building has come to life. Electrical and water supplies have been completed within the Digital Factory and ceilings have been installed in the Manufacturing Skills Academy. Fit out of the café, boardroom, clean room, and events space, including acoustics timber panels and ceiling tiles kicks off later this month.
A large solar photovoltaic array has also been installed on the building's purple roof, including 1612 solar panels and battery storage, with the full system designed to power the building's electrical systems and allow EV and E-bike charging.
Combined with a ready supply of low carbon heating thanks to connection to Scotland's first ever fifth-generation low carbon heating network serving AMIDS, the new NMIS HQ will be the University of Strathclyde's first operationally carbon neutral building.
On track for a BREEAM 'outstanding' award for sustainability - the highest accolade for sustainability in UK construction, the building features innovative technologies and materials that have been or can be remanufactured and reused. Any additional materials were carefully selected to ensure minimal environmental impact.
Handover of the building from Morrison Construction to the NMIS Engineering Services team remains on schedule for the summer when it will begin filling the bright space with cutting-edge digital advanced manufacturing technology.
Speaking about recent developments, Sarah Jardine, Chief Operating Officer, the National Manufacturing Institute Scotland, said:
Located between Glasgow Airport and the new Medicines Manufacturing Innovation Centre our facility is now clearly distinctive on the region's skyline and is testament to the commitment of NMIS, our funders and partners in re-establishing Scotland as an industrial powerhouse and manufacturing nation.

"Looking at this magnificent building, there can be no doubt that we are serious about helping the manufacturing community and our future workforce to thrive while attracting inward investment from global companies that want to innovate and enhance their competition within high value manufacturing."
NMIS is a group of industry-led manufacturing and engineering research and development facilities operated by the University of Strathclyde and supported by the Scottish Government, Scottish Enterprise, Highlands and Islands Enterprise, Skills Development Scotland, Scottish Funding Council and Renfrewshire Council. It is part of the UK's High Value Manufacturing Catapult.