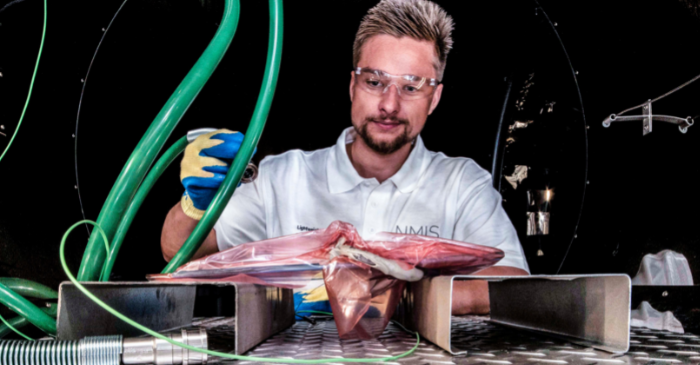 The National Manufacturing Institute Scotland (NMIS) has been selected to design and manufacture the trophy for a new award launched by the First Minister celebrating innovative Scottish manufacturers who champion fair work and diversity while investing in skills and sustainability.
The First Minister's Award for Manufacturing Leadership was announced on 19 May at the Federation of Small Businesses national awards event, where the First Minister highlighted the resilience, innovation and agility of Scotland's small businesses.
NMIS engineers Robert Lynch and Jayne Nichol are overseeing the development and manufacture of the physical trophy in collaboration with apprentices and graduates from West College Scotland, General Electric (GE), and Thales.
Made from sustainable recycled materials, the award trophy will be shaped in the silhouette of Scotland to celebrate the country's rich and diverse manufacturing history and ambitious goal to reach net-zero by 2045.
Entry for the award is open to all manufacturers across Scotland until Friday 1 July. Submissions could include examples of work done to improve employee wellbeing that has also increased productivity; where improvement programmes have noticeably increased participation and morale; or where promoting social and environmental goals has led to stronger business outcomes.
The package of prizes on offer is designed to help businesses grow and innovate and includes a menu of tailored manufacturing skills and R&D support from the NMIS Group.
The award is delivered with partners in the Scottish Government's Making Scotland's Future Programme and Scotland CAN B, Scottish Government's national programme supporting business as a force for good.
More information on the First Minister's Award for Manufacturing Leadership and how to apply can be found here.
First Minister Nicola Sturgeon said:
Small businesses are at the heart of our communities, offering service and employment at the same time as helping to drive productivity and innovation – a key strand of our recently published national Strategy for Economic Transformation.

"This Award for Manufacturing Leadership will recognise good practice and aims to boost productivity and competitiveness by supporting fairness and equality – as well as inclusive and sustainable employment in manufacturing.

"I would like to thank all those involved in the design and development of the award trophy, and those supplying the package of prizes on offer. I strongly encourage all manufactures to apply for the Award before the deadline.
Stewart McKinlay, Skills Director, National Manufacturing Institute Scotland, added:
This new First Minister's Award for Manufacturing Leadership demonstrates Scotland's rich and diverse manufacturing industry and shines a light on the benefits of diverse, fair, and sustainable work practices."

"As the National Manufacturing Institute Scotland continues to support manufacturers with business transformation and provide vital workforce skills, we're perfectly placed to make the trophy and showcase the vast expertise of our own engineers and the wider Scottish graduate and apprentice talent pool.