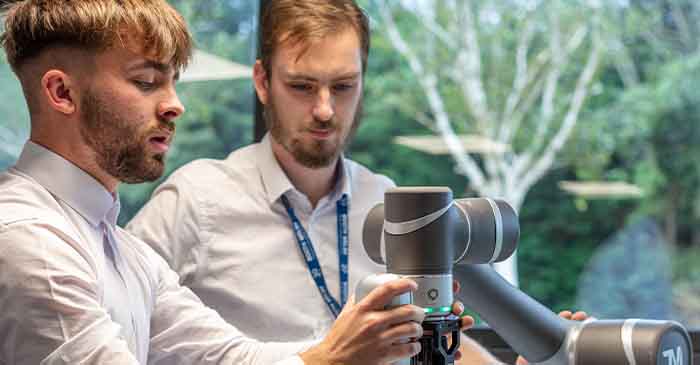 The University of Strathclyde's Advanced Forming Research Centre, part of the National Manufacturing Institute Scotland, is delighted to welcome integrated engineering technology company Booth Welsh as the latest Tier Two Member.
Ayrshire-based Booth Welsh acquired iTech, a growing Scottish business with a strong focus on digitisation and factory automation, last year and both businesses have a longstanding history of collaborating with the AFRC through several automation and Ph.D. industry projects.
Booth Welsh has worked closely with the University of Strathclyde and the AFRC supporting Ph.D. students to gain industry experience and learn how leading-edge technology such as Augmented Reality can help industrial assembly. iTech's long-standing association with the AFRC dates back to 2016 and recent projects have included the integration of automation into robotic cells, machinery safety on automation cells, and technical support on Siemens and Procentec software and equipment.
This membership agreement combines the strong abilities and client relationships of both companies in digital automation, sharing these benefits with the AFRC and the wider National Manufacturing Institute Scotland (NMIS) Group to support the Scottish manufacturing sector to navigate the challenges of the COVID-19 pandemic and beyond.
As part of this collaborative agreement, the companies will also provide the AFRC with a state-of-the-art Techman Cobot. This collaborative robot system will provide additional capability to the AFRC, allowing for the testing and development of handling solutions for material loading/unloading into automation cells including furnaces, forging presses, and machining centres.
Gordon Semple, Booth Welsh Innovation Lead, comments,
This is a really exciting partnership for us. Stepping up to become a Tier Two Member was a natural next step. The formalising of our strategic partnership will significantly accelerate our company R&D, allowing us to pull our expertise and work jointly to develop innovative solutions for current and future challenges across a number of industry sectors in a post-COVID world.
Chris McComb, iTech Managing Director, adds,
I'm delighted that we are able to extend our partnership with the AFRC. All parties coming together with leading technology and first-class research expertise will be transformational for the manufacturing industry and will really bridge the gap between academic research and industry use cases, producing a unique offering in the marketplace.
Danny McMahon, Digital and Metrology Team Lead at the National Manufacturing Institute Scotland, said:
Having worked with Booth Welsh for several years, we are very excited about finally welcoming the company on board as Tier Two Members. Not only are we excited about the positive impact the Techman Cobot will have within the AFRC, but we're looking forward to working together to support the manufacturing sector respond to the ongoing challenges presented by the COVID-19 pandemic.