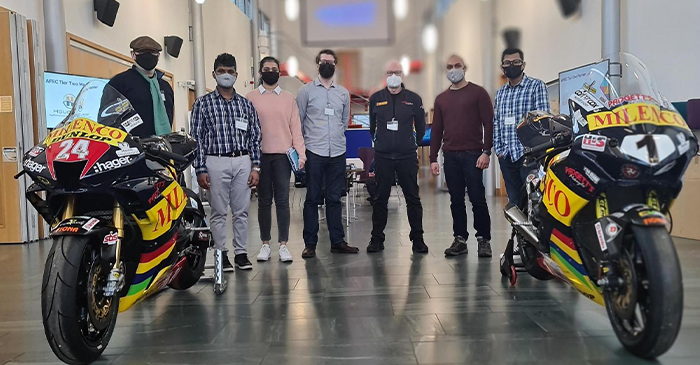 Padgett's Motorcycles, one of the UK's leading racing teams, is collaborating with the National Manufacturing Institute Scotland (NMIS) Manufacturing Skills Academy's Doctorate Centre to harness the talents of four university students to explore forming technology and how it can make a bike faster and safer in the lead up to the Isle of Man TT race, one of the most dangerous racing events in the world.
The students are working with a team from the University of Strathclyde's Advanced Forming Research Centre (AFRC), part of the NMIS Group, to improve the race bike's performance during the harsh racing conditions of the Isle of Man TT and the British Superbike Championship, where Padgett's competes against factory race teams.
The NMIS Doctorate Centre in Advanced Manufacturing is operated by the University of Strathclyde and focuses on industry-based research, designed to make a difference to manufacturers and engineers. This the first time that it has set up projects in the world of motorcycle racing.
Dorothy Evans, NMIS Doctorate Centre Manager, said:
We are delighted to have been given the opportunity by Padgett's to help our students to develop their skills by tackling such an exciting challenge.

"Clive and the rest of the team at Padgett's have been great to work with and I speak for everyone when I say I cannot wait to see the results in action.
Clive Padgett, Owner, Padgett's Motorcycles, commented:
Having been involved in the racing sector for such a long time, it's essential to stay ahead of the rest by making the most of the brightest minds and latest technologies.

"Through this project, we hope to give the talented students at Strathclyde the chance to enhance their knowledge by tackling a real-world challenge and, selfishly, help prepare us for Isle of Man this year.
Clive Padgett, the son of original founder Peter, became the youngest ever British racing champion in 1977 – aged just 19, and following his retirement from racing has gone on to spearhead a remarkable run of success, which has seen Padgett's regularly defeat big names such as Honda and BMW in the notorious 37 mile Isle of Man TT, the oldest motorcycle racing circuit still in use.