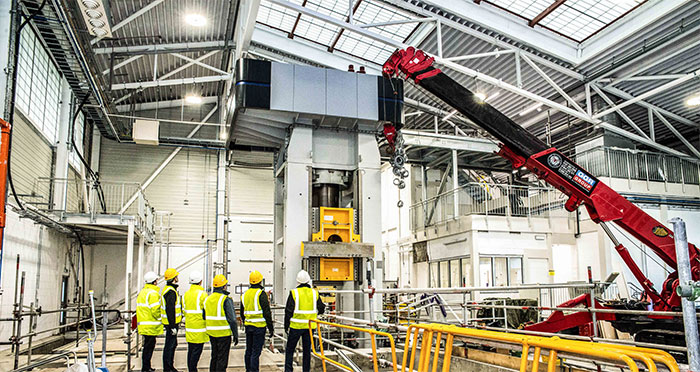 Transvalor, a leading software developer in manufacturing process modelling, has joined the University of Strathclyde's Advanced Forming Research Centre (AFRC), part of the National Manufacturing Institute Scotland (NMIS), as a Tier One Partner.
The first Partner to join the AFRC in support of its soon to be opened FutureForge facility, Transvalor provides process simulation expertise and deep insight into material behaviour resulting from manufacturing processes.
Integrating with the AFRC's established materials and metal forming and forging expertise, this new relationship will provide France headquartered Transvalor with new opportunities for applied research activities and access to a wide range of industrial partners.
The FutureForge facility will help manufacturing companies of all sizes become more competitive by exploring less energy intensive methods of forging. It will also use digital technologies to accelerate the development of forged products by eliminating the costly trial and error traditionally associated with the forging process.
FutureForge will provide a unique physical environment for some of the most challenging aspects of hot forging, comprising a 2000T hydraulic press with open die, closed die and isothermal capability.
Transvalor will provide technical expertise and access to its software, DIGIMU® & FORGE®. for microstructural modelling within the closed-die forging process. FORGE® is a software solution for the simulation of hot and cold forming processes, used to help companies produce forged parts for a variety of industrial sectors, while DIGIMU® simulates microstructure changes during metal forming processes.
The AFRC and Transvalor have joined forces to strengthen research and development projects and provide cost-effective solutions for manufacturing best quality forged products. The partnership fortifies Transvalor's willingness to support one of the most internationally renowned research centres, working with industrial customers from a range of sectors.
Emmanuel Chenot, Managing Director at Transvalor, said:
This new relationship has a definitively strategic nature for Transvalor as it gives the opportunity to sustain applied research activities and collaboration with distinguished industrial partners in the field of metal forming and metallurgy.

Transvalor boasts a wealth of experience in multiple industrial sectors including aerospace, automotive, energy, heavy and metal. Nowadays, process simulation has become an essential tool fully integrated in the development cycle for manufactured products, with designers, engineers and academics given access to deep insights for such. Digital simulation is crucial in order to boost innovation, helping metal forming companies to remain highly competitive. Restricting the numbers of prototypes and detecting manufacturing defects allows for solutions that reduce development cycles and costs considerably.
Transvalor's Tier One Partnership will see the company become involved in FutureForge, the world's most advanced hot forging research platform. Speaking about the collaboration, Transvalor's Northern Europe sales manager Oliver Schwesinger states:
As a Tier One Partner, we are delighted to install licenses of our well-known software, FORGE® for hot metal forming processes and DIGIMU® for microstructural evolutions of metallic alloys. The AFRC's research teams undertake ambitious work to understand the changes in microstructure occurring during the hot forming of nickel-based superalloys meaning that this is a great fit.

Professor Michael Ward, Chief Technology Officer, Advanced Nuclear Research Centre and former Technical Director, AFRC, said:
We are thrilled to welcome Transvalor onboard as our first Tier One Partner at our highly anticipated FutureForge facility.

"Transvalor will bring simulation software to the programme, injecting digital capabilities into a traditional method of manufacture that is vital to many industries, allowing for innovation in its truest form. Through its technology we will work in partnership to understand a process steeped in tradition, ensuring that the forging indsutry has the data driven knoweldge required to continue providing robust solutions.