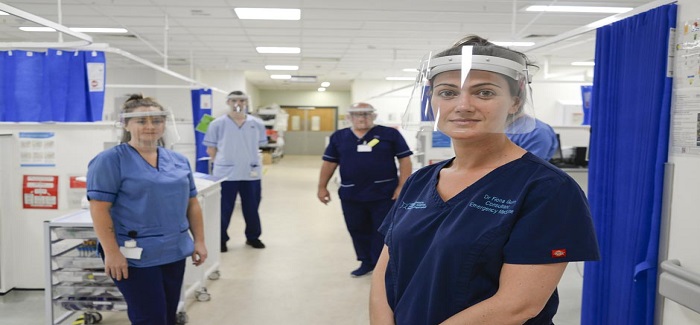 A new online tool will make it easier for product developers to gain rapid acceptance of technology created in response to the current Covid-19 pandemic.
Engineers at the National Manufacturing Institute Scotland (NMIS) are sharing their additive manufacturing and product development expertise as part of a consortium to develop the tool, which is the brainchild of specialist engineering consultancy Astrimar.
Astrimar has a track-record helping technology developers through product approval and secured a £50,000 grant from Innovate UK to develop the software tool.
The Covid-19 pandemic has seen a surge of new products and technologies developed to support the UK's health service but many of them are currently restricted from use due to lack of necessary certification and approval.
Astrimar's tool will lead developers through a series of steps to ensure the correct considerations are made with regards to standards, requirements and testing, earlier in the process. It will also allow acceptance/procurement authorities to more efficiently review the evidence of the product's fitness for purpose and certification.
There is an urgent need for emergency product acceptance so the tool will be made freely available later this year. It will apply across a range of technologies and the aim is to make it easily adaptable for other crisis situations, such as flooding.
NMIS engineers worked with Astrimar to establish a consortium that includes Angus 3D Solutions Ltd, Lloyds Register and the Medical Devices Unit at NHS Greater Glasgow & Clyde – ensuring the customer perspective was fed in from the start of the project.
Rory Ingram, NMIS Design Engineering Team Lead, said:
There is potential for this tool to have a significant impact in terms of getting quality, fit-for-purpose equipment to the health service during this pandemic and any future emergencies.

Small scale producers will be encouraged to consider the standards and risk mitigations that the product will have to comply with, early in the process. The tool will make them aware of how to demonstrate that these requirements have been fulfilled, so that the end-user can approve its use.

NMIS was approached to bring product development, market acceptance and additive manufacturing expertise to the project and we are providing feedback and advice as it moves forward.
Elizabeth Garry, Director at Astrimar, said:
The NMIS team brought significant insights and product realisation expertise into the development of the tool in relation to both content and usability. They have also provided access to potential users and valuable feedback from piloting the tool on a Covid-19 product development project.