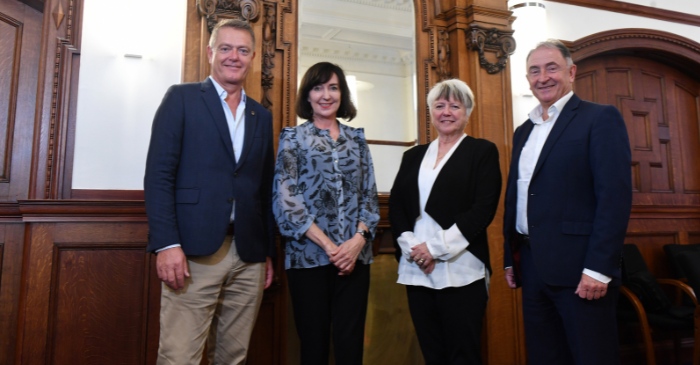 Scottish and Australian researchers have struck a new agreement to strengthen collaboration on modern manufacturing methods that could be adapted to shipbuilding and marine operations underway in both hemispheres.
A Memorandum of Understanding (MoU) between the University of Strathclyde in Glasgow – operator of the National Manufacturing Institute Scotland - Flinders University in Adelaide and BAE Systems is key to the establishment of the Advanced Manufacturing Research Exchange to foster closer working relationships and facilitate the development of international best practice for shipbuilding manufacturing methods and processes.
This includes exploring innovative applications of advanced manufacturing, digital tools and Industry 4.0 in shipbuilding, spanning automation and robotics, simulation and modelling, materials and light weighting, as well as welding and joining technologies.
The MoU was formalised at a signing ceremony in Glasgow with University of Strathclyde Principal and Vice-Chancellor and Chair of the NMIS Board, Professor Sir Jim McDonald, the President and Vice-Chancellor of Flinders University, Professor Colin Stirling, BAE Systems Australia Director Business Development and Continuous Naval Shipbuilding, Sharon Wilson and South Australia's Deputy Premier, Susan Close.
The Deputy Premier also announced around £70,000 would be invested to support the establishment of the Advanced Manufacturing Research Exchange.
Supporting advanced shipyards in both Glasgow and Adelaide, any innovative research arising from the MoU is intended to focus on facilitating the adoption of new technologies deployed effectively to bolster future shipbuilding programs at BAE Systems' Govan yard on the River Clyde, and the Hunter Class Frigate Program underway at the Osborne Naval Shipyard in South Australia (SA).
An exchange of expertise and collaboration at the National Manufacturing Institute Scotland and the Factory of the Future at the Tonsley Innovation District in Adelaide will help drive the growth of advanced manufacturing for shipbuilding in the UK and SA, by strengthening prospects for the adoption of ground-breaking manufacturing technologies and processes.
It also has the potential to lead to knowledge transfer and secondment opportunities between Australia and Scotland.
Sir Jim said:
I am delighted to sign this agreement which enables our innovative research to directly link into modern manufacturing and has huge potential long-term benefits for the shipbuilding sector, both here in Scotland and in Australia.

"As a leading technological university, we are committed to delivering impact, and to see our research deliver cutting-edge solutions and improve practice in industry across Scotland and the UK, as well as internationally.

"I look forward to the National Manufacturing Institute Scotland and wider University of Strathclyde working closely with our partners BAE Systems and Flinders University, to help develop international best practice and new technologies to strengthen shipbuilding manufacturing. This partnership also opens up a potential pipeline for collaborative research, knowledge exchange, high impact innovative solutions and opportunities in education and training between the two countries.
Professor Colin Stirling said:
We thank the South Australian government, National Manufacturing Institute Scotland and the wider University of Strathclyde, and BAE Systems Australia for their valuable support.

"Knowing first-hand the quality of research in Glasgow, it's great to see our experts at Flinders University's Australian Industrial Transformation Institute working with the University of Strathclyde and BAE Systems Australia, reinforcing the importance of industry collaboration by actively supporting the shipbuilding industry with solutions benefiting both the UK and Australian naval industries.
Professor John Spoehr, Pro Vice-Chancellor of Research Innovation and Director of Flinders University's Australian Industrial Transformation Institute (AITI), said:
Collaboration with BAE Systems ensures researchers at Flinders University and Strathclyde are engaging with the latest modern manufacturing processes on large-scale shipbuilding which can directly benefit from the accelerated adoption of new and innovative technologies, like those made by possible by our joint research expertise.
Sharon Wilson, said:
We know that collaboration is key to driving world's-best practice technologies and outcomes – our relationships with Flinders University and the University of Strathclyde reflects this, and I'm excited to think about the benefits this new global linkage will deliver.
The Hunter Class Frigate Program is the biggest surface shipbuilding project in Australia's defence history, delivering to the Royal Australian Navy a formidable fleet of nine anti-submarine frigates critical to helping protect the nation for decades to come.
Dr Close said:
I am delighted to be in Glasgow to strengthen this relationship with our new partner, the University of Strathclyde, and discuss our joint commitment to the advancement of our naval shipbuilding capabilities.