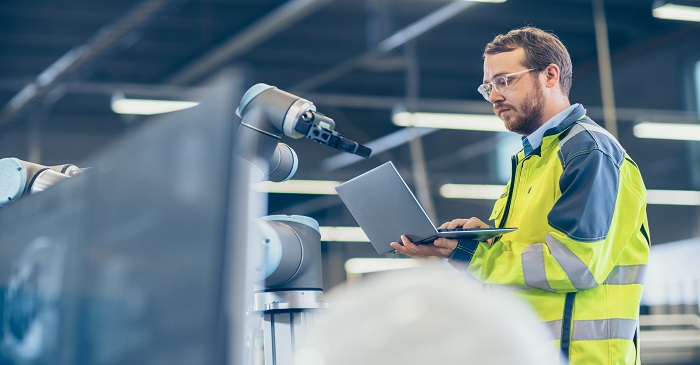 The National Manufacturing Institute Scotland's (NMIS) Manufacturing Skills Academy has created a bank of useful tools and courses to help Scotland's manufacturing community keep up to date with the latest technical developments in the sector.
The free to use resources include the NMIS Insights Online webinar series, offering the opportunity to hear from some of the country's most experienced engineers and businesses working in key technology areas, such as additive manufacturing, metal forming technology and residual stress. The Engineering Fundamentals course delivered by the University of Strathclyde, is a fully funded, accredited and online training module designed for anyone just starting out in their engineering career be that a school leaver, graduate or someone with an interest in changing career path and, there is also an Introduction to Digital Manufacturing course, a 3-part series which delves into the concept of digital manufacturing.
For something a more specific, NMIS has also collaborated with the team at the University of Aberdeen to create an online course focused on using automation to increase productivity, designed for entrepreneurs and businesses to embrace the concept of industry 4.0 and exploit the many benefits of robotic systems.
NMIS Manufacturing Skills Academy Capability Lead, Jim Hannigan, said:
In an industry that is ever changing, it's becoming increasingly important for individuals to continue to enhance their learning to ensure that key skills and competencies are future proofed. Today's employees will need to develop new capabilities and embrace new approaches, tools and digital methods to meet upskilling and reskilling opportunities. Demonstrating this type of commitment to continuous professional development can also support future career and personal ambitions.
Accessing these resources couldn't be easier. Our website houses all of the relevant material, registration links and key contacts.
Weekly webinars which tap into the skills and expertise of some of the country's most experienced engineers, researchers and businesses that are immersed in the key technology areas, such as Industry 4.0, visualitation and innovation.
Introduction to digital manufacturing
The concept of digital manufacturing cannot be ignored; it's changing how factories and workplaces across the country operate. This is your chance to learn the basics when it suits you.
Opportunities for robotics in boosting productivity
This half day online session will see participants build on their knowledge and experience of robotic and autonomous systems, provide insights on the latest trends, and, provide them with a framework for thinking of the opportunities robotics could present within their business.
Aimed at school leavers, those thinking about an aprenticeship or anyone thinking about a career in engineering, during this online accredited module you will learn what it means to be an engineer and explore the impact engineers have on the industry and environment around them.
To find out more about what's on offer, go to our webpages.