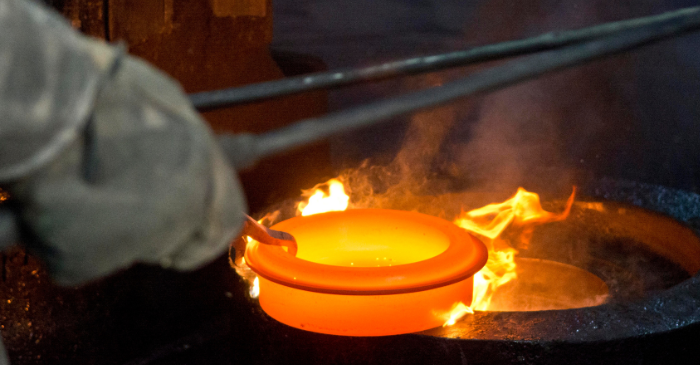 Six major players in the forging and forming industries have joined the University of Strathclyde's Advanced Forming Research Centre (AFRC), part of the National Manufacturing Institute Scotland (NMIS) Group, just months after it established an outreach office in Sheffield to support a cluster of innovative companies vital to the UK's transition to a greener economy.
South Yorkshire's forging and forming skills are central to the UK economy, providing strategically critical components in the aerospace, defence, clean energy and infrastructure sectors. They are also crucial to combatting climate change, providing a huge opportunity for the region including the potential to support the manufacture of small modular reactors and offshore wind.
said Keith Ridgway, Executive Chair of the National Manufacturing Institute Scotland.
The six new members are: Sheffield Forgemasters; Forged Solutions Group; Independent Forging and Alloys; Maher; Castings Technology International; and Footprint Tools.
Forging also has a vital role to play in the aerospace and defence sectors, which are experiencing a sharp upturn in orders and adds more than £35 billion to the UK economy along with significant export earnings," said Ridgway.

"To remain competitive the industry needs to innovate which is why the AFRC, part of the High Value Manufacturing (HVM) Catapult, is connecting with small and medium sized firms in South Yorkshire to help them develop the technologies, talent and skills needed to grow their businesses.
Ben McIvor, President of Forged Solutions Group (FSG), has ambitious plans for the industry and sees membership of the AFRC as an opportunity to bring the sector together to share ideas and insights and to tackle common challenges.
Sheffield is a great place to do business and having the AFRC outreach office in the city provides direct links to some of the best research talent in the world, which is essential to us as we invest and grow.
Richard Jewitt, Director of Footprint Tools, said:
We are a family business with deep roots in Sheffield and a long association with Keith Ridgway. Becoming members of the AFRC gives us the opportunity to shape their research agenda in a way that meets the needs of small and medium sized forging and forming firms across the region. We're already working with them on developing drop stamp technology, particularly automation.
Independent Forgings and Alloys, which has just become a Member, is now home to a productivity boosting rotary forge machine that can provide up to 90% materials savings compared to conventional machining, thanks to its partnership with AFRC.
Michael Carlisle, IFA Business Development Manager, said:
We are incredibly excited about its arrival from Scotland to our facility in Sheffield – which is the heart of the UK steel industry. Sheffield is in an ideal position to build on the great work already completed by the AFRC, and together we can take the machine and the capability forward to maximise the benefit for UK industry.
Business Development lead for NMIS-AFRC in Sheffield, Alan Lyons, said:
The response from industry in South Yorkshire and the Midlands over the last six months has been amazing. Having Sheffield Forgemasters join us as a Tier One Member and supporting them for the last six months on their industrial digitalisation journey has been hugely rewarding.

"In addition to the six new members we now have a flourishing Forging and Forming Forum, which meets regularly to discuss issues facing the industry and is fast becoming vibrant industrial community where knowledge, experience, capabilities and opportunities are shared. It's great that Sheffield and the wider region now has access to the R&D talents of three High Value Manufacturing (HVM) Catapult centres.