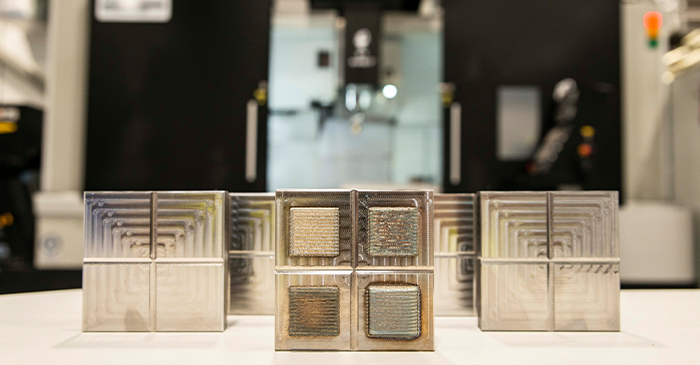 Additive manufacturing and machining engineers at the National Manufacturing Institute Scotland (NMIS) which is operated by the University of Strathclyde, joined by six other companies, have created a low-cost remanufacturing solution that can extend the life of parts used within manufacturing by 120%, helping UK manufacturers to embrace the circular economy, boost sustainability, and save costs.
The two-year £1.2million DigiTool project was part funded by Innovate UK and focused on the remanufacture of dies, which are commonly used across the hot forging, stamp and press, moulding and oil and gas industries to shape metal during production, but are typically subject to high costs and long manufacturing lead times.
Designed to find a low-cost solution to these industry problems, the new DigiTool framework allows manufacturers to embrace remanufacturing, which is where previously worn or damaged parts, in this case dies, can be returned to "like-new," condition.
The framework incorporates a three-stage remanufacturing process using a hybrid platform that combines additive manufacturing and machining and can be retrofitted to a legacy machine tool to save entry costs.
Using this technology worn areas are discovered using a combination of scanning and metrology, and then additive manufacturing techniques are used to complete the remanufacture back to the desired die form.
The DigiTool team has successfully used the framework to help an industrial partner extend the life of a die by 120%, allowing it to make more than double its normal output of complex parts for the forestry industry before investing in a new one.
Potentially offering significant production cost savings that can be passed on to end users, the new DigiTool framework will allow manufacturers to remanufacture on site without having to transport materials, which will reduce environmental impact while also saving costs, time and materials.
Project partners include Toolroom Technology Limited (TTL), Applied Tech Systems (ATS), Hybrid Manufacturing Technologies (HMT), INSPHERE Ltd and Kimber Mills International.
Stephen Fitzpatrick, Machining and Additive Manufacturing Team Lead at the National Manufacturing Institute Scotland, said:
DigiTool is one the most significant investments of its kind within the tool and die sector for over 40 years. This project has been truly collaborative, and we have combined expertise from a range of backgrounds to provide an answer to a challenge that the tool and die sector has been facing for decades.

"The companies involved were looking to innovate, reduce costs and adopt circular economy approaches, however with little investment it was difficult to find a solution for the high costs associated with replacing worn parts that were not working to their full potential.

"The DigiTool framework now allows manufacturers to upgrade current machinery at a relatively low cost to integrate laser metal deposition additive manufacturing and remanufacture on site, extending the lifespan of dies, increasing production output and enhancing their competitive advantage.
Toolroom Technology Limited (TTL) led the project, with NMIS specialising in additive manufacturing. The other project partners delivered research in their own areas of expertise, including metrology and scanning, adaptive machining and digital integration.
NMIS is exploring opportunities to fully automate the technology and adapt it for high value components.