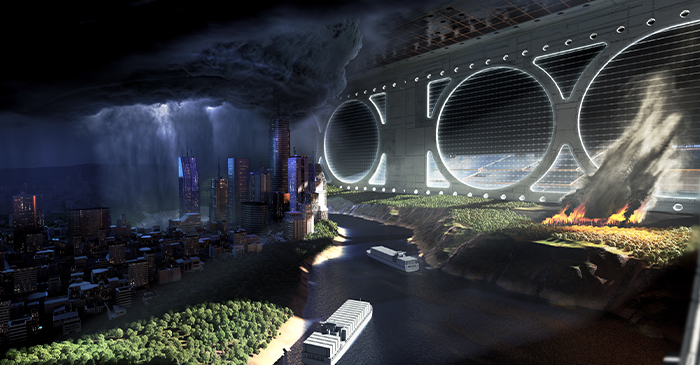 Scientists are set to use algorithms originally developed for the study of human brains and starling flocks and apply them to the design, build, and flight of future space missions.
The University of Strathclyde is partnering on a £18 million project to establish Glasgow-based AAC Clyde Space as a space mission provider of advanced satellite services.
Academics at Strathclyde will lead on the development of software tools and algorithms for the xSPANCION Pioneer project that will inform the design and operation of complex satellite networks and constellations of spacecraft.
It is hoped the project will help AAC Clyde Space to create standardised models for networked satellites and their operation, making them cheaper to build and simpler to operate.
The project encompasses design of a satellite platform and production process, manufacturing, licensing, and launch co-ordination, as well as the development of new technologies for the future constellation, such as for propulsion, intersatellite links, safe and secure transmission of data and a customer interface.
Experts at the National Manufacturing Institute Scotland (NMIS) will help to develop and advise on the manufacturing process and assembly line procedures.
NMIS will support AAC Clyde Space to incorporate Model Based Systems Engineering into their business systems and operations. Through utilisation of this transformative approach, AAC Clyde Space will be able to optimise time spent on high-value engineering activity by reducing the inefficiencies of managing a technologically-complex engineering offering. This will be achieved through the deployment of new processes and their associated technologies.
Operated by the University of Strathclyde, NMIS is a group of industry-led manufacturing research and development facilities transforming skills, productivity and innovation, helping to make Scotland a global leader in advanced manufacturing.
AAC Clyde Space is one of several companies that has helped establish Glasgow as a centre of the European satellite-building industry, with more satellites produced in the city than any outside the USA.
In order to successfully validate the capabilities developed under the programme, the company will build ten spacecraft and initially put four linked satellites into orbit as part of a demonstration flight.
Professor Malcolm Macdonald, Director of the Applied Space Technology Laboratory based at the University of Strathclyde, said: "Our role will focus on how to design, operate and get the best use out of networked spacecraft and how they collectively work together – how you move them around, and how to transfer the data they collect.
It will take the findings of what started as fundamental curiosity-led research, that we first applied to the study of Alzheimer's Disease, before bringing it back to control of space systems where it currently has a low technology readiness level. This project will accelerate that work to a stage where it will be practically applied.

The project builds on our many years of research and innovation in space technology and our long-standing relationship with AAC Clyde Space that stretches back 12 years.

It's a textbook example of Strathclyde's approach to collaboration between academia and industry and has proven very valuable and beneficial, helping both to grow.
Experts from the Department of Electronic and Electrical Engineering, the Centre for Signal and Image Processing, and the Advanced Forming Research Centre/NMIS will all contribute to the project, along with other partners: Bright Ascension Ltd., D-Orbit UK, Alden and the Satellite Applications Catapult.