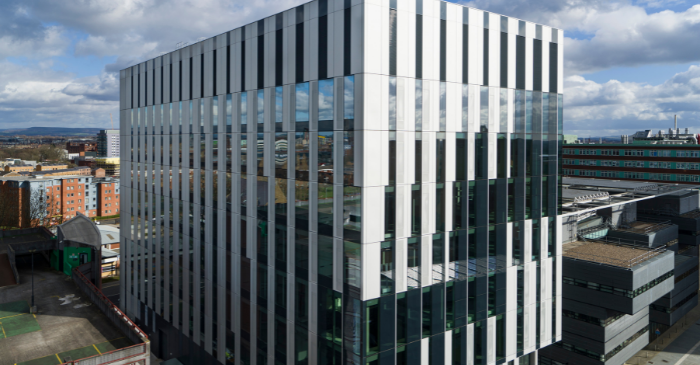 The UK's forging and forming community is set to benefit from a unique pathway to cutting edge equipment and world class academic expertise from both north and south of the border, thanks to a new partnership between two world leading research organisations.
The Henry Royce Institute (Royce) the national institute for advanced materials research and innovation, has welcomed the University of Strathclyde's Advanced Forming Research Centre (AFRC) – a centre within the National Manufacturing Institute Scotland Group, as an Associate Partner.
Poised to share equipment and expertise with their respective networks, the two organisations will offer forging and forming houses opportunities to access the latest facilities and ground-breaking capabilities to explore sustainable manufacturing methods and reduce costs.
The partnership is launching with the AFRC, one of seven UK centres that are part of the High Value Manufacturing (HVM) Catapult, taking delivery of a Schuler precision linear forge, originally destined for the Henry Royce Institute.
The equipment's arrival will allow manufacturing businesses to tap into forging technology that can potentially increase energy efficiency and reduce cycle times during production.
Joining forces with Royce's Founding Partners – the Universities of Sheffield, Leeds, Liverpool, Cambridge, Oxford and Imperial College London, as well as the United Kingdom Atomic Energy Authority (UKAEA), the National Nuclear Laboratory (NNL) and Associate Partner Cranfield University, the AFRC and its customers and partners will benefit from a direct link to the institute's academic and industrial community, supporting industrial R&D requirements and readiness.
Professor Brad Wynne, Research Director, Advanced Forming Research Centre (AFRC), said:
Royce is a crucial national asset for advanced materials research and innovation to promote economic growth and sustainable society. The Advanced Forming Research Centre is delighted to join as an Associate Partner and engage with all the fantastic research undertaken across all the partner organisations.

"We look forward to engaging with the Royce's academic and industrial community and inviting them to join forces with our colleagues to explore how our facilities can support them.
The new partnership follows the AFRC's recent opening of a dedicated forging office in Sheffield and the news that it has welcomed Sheffield Forgemasters as a Tier One Member as it continues to develop links with businesses within the region.
Henry Royce CEO, Professor David Knowles added:
The Advanced Forming Research Centre is joining Royce as an Associate Partner thanks to its strong capabilities across its research and facilities and a clear alignment with our Research Areas in advanced metals processing and the development of materials systems for demanding environments.

"It will contribute significant expertise and support our core facilities offer to industry and academia.
Formed in 2015 following the UK Government's Northern Powerhouse proposal, designed to boost economic growth in the North of England, the Henry Royce Institute aims to support and grow world-recognised excellence in UK materials research, accelerating commercial exploitation and delivering positive economic and societal impact for the UK.
It looks to ensure that academics and industry in the UK's materials community have access to world-class research capabilities, infrastructure, expertise, and skills development
Helen Lightbody, Chief Operating Officer, Advanced Forming Research Centre, said:
We look forward to future collaborative opportunities that will allow us to support organisations within Manchester, Sheffield the wider academic community and beyond. With the right strategy in place, we hope to make a positive impact upon the UK manufacturing sector and the economy."